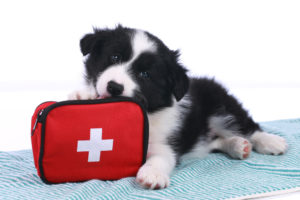 Pet first aid is defined as "the immediate treatment of an injured animal or animals that are suffering from sudden illness".
First aid is important to ensure the wellbeing of animals in an emergency situation. The aim of pet first aid is to preserve life, to reduce pain and suffering, to prevent the situation from getting worse and to promote recovery. These aims are the same as for human first aid.
Before we carry out pet first aid we must make sure that it is safe to do so. Assess the situation and check for any dangers that may hurt you or those around you. One accident that you hear about most years is how a dog was swept out in a flooded river. The owners jump in to rescue the dog and the news reports how the owners were drowned and the dog survived. You must make sure that any action you take, will not harm you.
Another way you could get hurt is if an animal bites you. Any animal in pain could lash out at you so be aware at all times even if you know the animal and also make sure you handle them correctly.
There are laws regarding the welfare and treatment of animals. Under the Veterinary Surgeons Act 1966, no one is allowed to practice veterinary surgery unless they are registered in the veterinary surgeon's register. As a pet first aider, you are not a vet and you cannot act as a vet. A vet can give surgical operations, diagnose tests, give advice on diagnosis, administer prescription drugs and many other procedures.
The Veterinary Surgeons Act 1966 also allows veterinary nurses under schedule 3 to assist a vet and carry out certain minor treatments and surgery under the direction of a vet. The is also under the act provisions for student veterinary nurses.
Nursing assistants and those not qualified are also covered under the Veterinary Surgeons Act 1966. Pet first aiders are covered under schedule 3 of the Veterinary Surgeons Act 1966 where it states that in an emergency anyone may give first aid.
The next question is, what procedures come under the heading of first aid?
The Royal College of Veterinary Surgeons has advised that:
"Provided what is done, is done in order to save an animals life or to stop its pain or suffering and is done as an interim measure until a veterinary surgeon's services can be obtained, it is unlikely that, in most cases, there will be subsequent argument that what has been done has gone beyond first aid."
Pet first aid is similar to human first aid and there is not much research on some subjects so human first aid is adapted for use on pets. Guidelines change from time to time and we will update this course and you will be able to see the latest videos for up to eight months from when you start the course, even after you have passed the test.